Fully Caffeinated Since 1982
8.09.2004

Fully Caffeinated - My New Blogging Home
Well, I did it. I've got
'Fully Caffeinated'
up and running, and I've moved most everything that I could to my new blog home.
I'm leaving Perle Moon up due to the archives and the fact that I love it. I love the look, the feel, and the mood of this blog so much that I've mirrored it on Fully Caffeinated. Nothing much has changed, really, only the blogger herself. The template remains the same.
Please update your links to the new name and new address. I have included a link to Perle Moon on the new blog, so feel free to visit here whenever you like.
Thanks to everyone and see you at the new space soon!
8.03.2004

David Has Been Found!!!
My son has been found safe and alive! I am exhausted, so I will update with details later. For now, I just want to thank everyone for their prayers and good wishes. If I could turn each word into an endless hug for each of you for all you have done, I would do so in a moment.
Robert and I are going to be interviewed on national Fox News Live tomorrow morning. Since Fox is nation wide, I thought everyone would like to hear a little bit of the story for themselves.
There will be a celebratory party at Acts Church of Henry County in McDonough, Georgia for everyone who participated in even the smallest way for helping bring David home.
I'll be relating all this in detail at a later time, but right now I just want to go love on my child and get some sleep.
8.02.2004

My Son Is Missing
I posted this earlier on the international cross stitch boards I frequent. I know people read this blog, so I am going to post it here as well.
My son has been missing for 24 hours now. He got out through the back door, and as some of you know he likes to climb one of his play cars over the fence and play in the area behind our fence. We discovered he had been outside around 8am yesterday morning, and the last time he was checked on was between 1 or 2am Saturday night so we know he left the house sometime between 2 and 8am.
The search party and SWAT team were out all day yesterday, but nothing was discovered. At this point, I am convinced he is either being harboured in someone's house or he has been taken out of the area. Here is a link to local Georgia news and a picture of David:
click on the 'Dozens Search For Missing 4-year old'
11 Alive News
Channel 46 News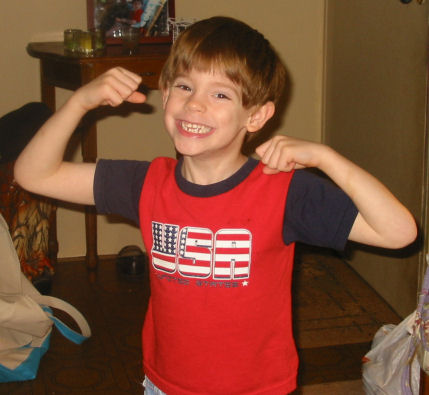 Please, if anyone knows absolutely anything, please contact the Henry County Police Department in McDonough, Georgia. I don't have to tell you my husband and I are about out of our minds with worry. My whole family has been here. The only reason I am posting this here and other boards is because I know posters from all over the nation and the world is going to see this.
We just want our son back. Please pray that he comes home soon.